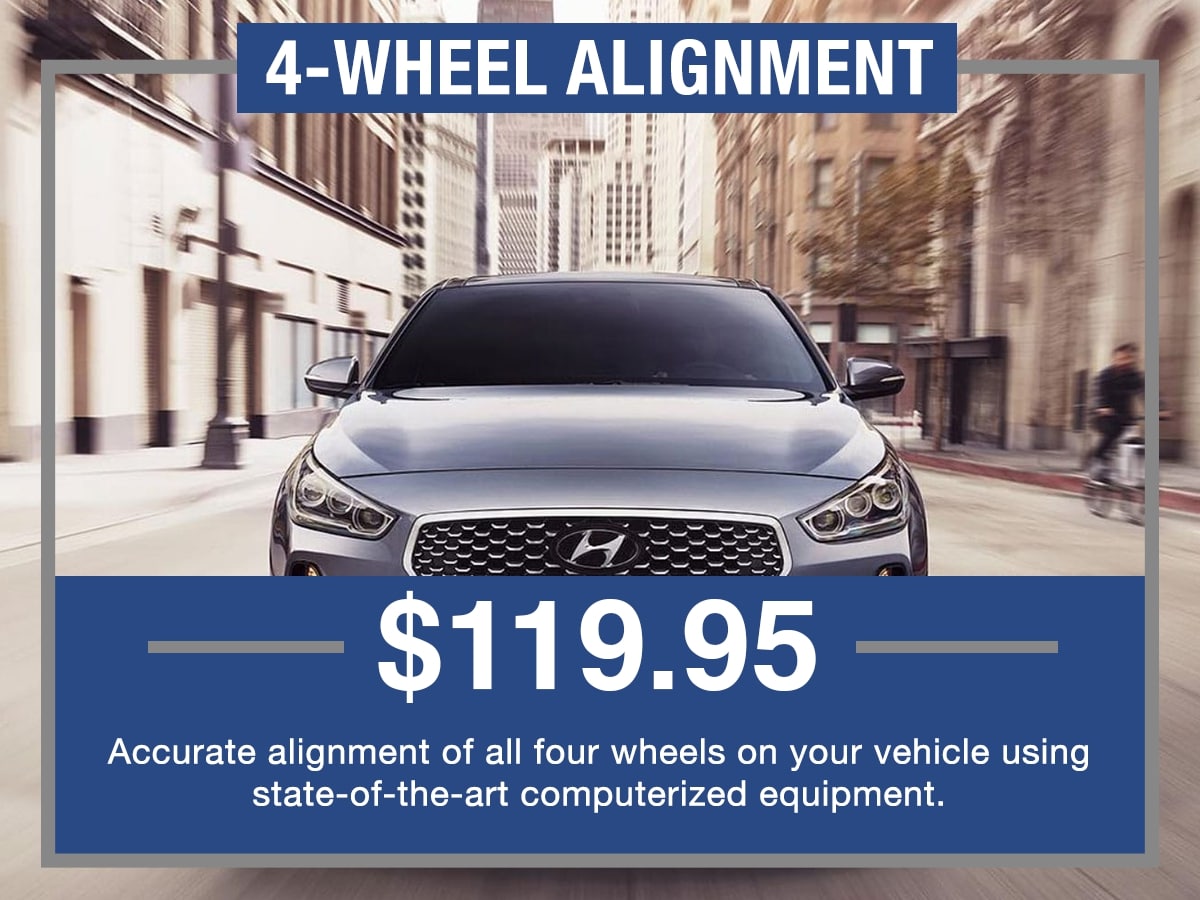 Four Wheel Alignment Service
The roads around Bloomfield, New Jersey, can be full of potholes during certain times of the year and potholes are notorious for getting your tires misaligned when you drive into one. Even driving a little too fast into a curve or against one of those concrete parking space barriers can throw your wheels out of alignment. This can happen on all the four-wheel drive vehicles Hyundai makes, and once your wheels fall out of alignment, you should bring your vehicle to Lynnes Hyundai right away so we can do a four-wheel alignment on it and get your vehicle back in shape.
Why Having Your Wheels Aligned is Important 
There are several reasons why keeping your wheels aligned is important, including:
Misaligned wheels put incredible pressure on the suspension system and it can cause parts to break. The suspension system is made up of bushings, bearing, shock absorbers, and the steering system among other parts. When the wheels are out of alignment, they pull in different directions from each other and many parts simply cannot handle the stress over time.
Your steering will be impeded as the wheels go off in slightly different directions. The car will normally start to pull to one side and you will have to constantly correct the direction your car is moving toward.
The tires on the wheels will wear down faster than they will under normal circumstances. Tires are a big investment and you will want to have them last as long as possible before you need to replace them. 
Wheels that are not aligned can be a safety hazard. You lack full control of the vehicle when you are driving and abnormal wear on the tires will cause them not to adhere to the road well - especially during inclement weather.
Service Hours
Monday

7:30AM-6:00PM

Tuesday

7:30AM-6:00PM

Wednesday

7:30AM-6:00PM

Thursday

7:30AM-6:00PM

Friday

7:30AM-6:00PM

Saturday

7:30AM-4:00PM

Sunday

Closed