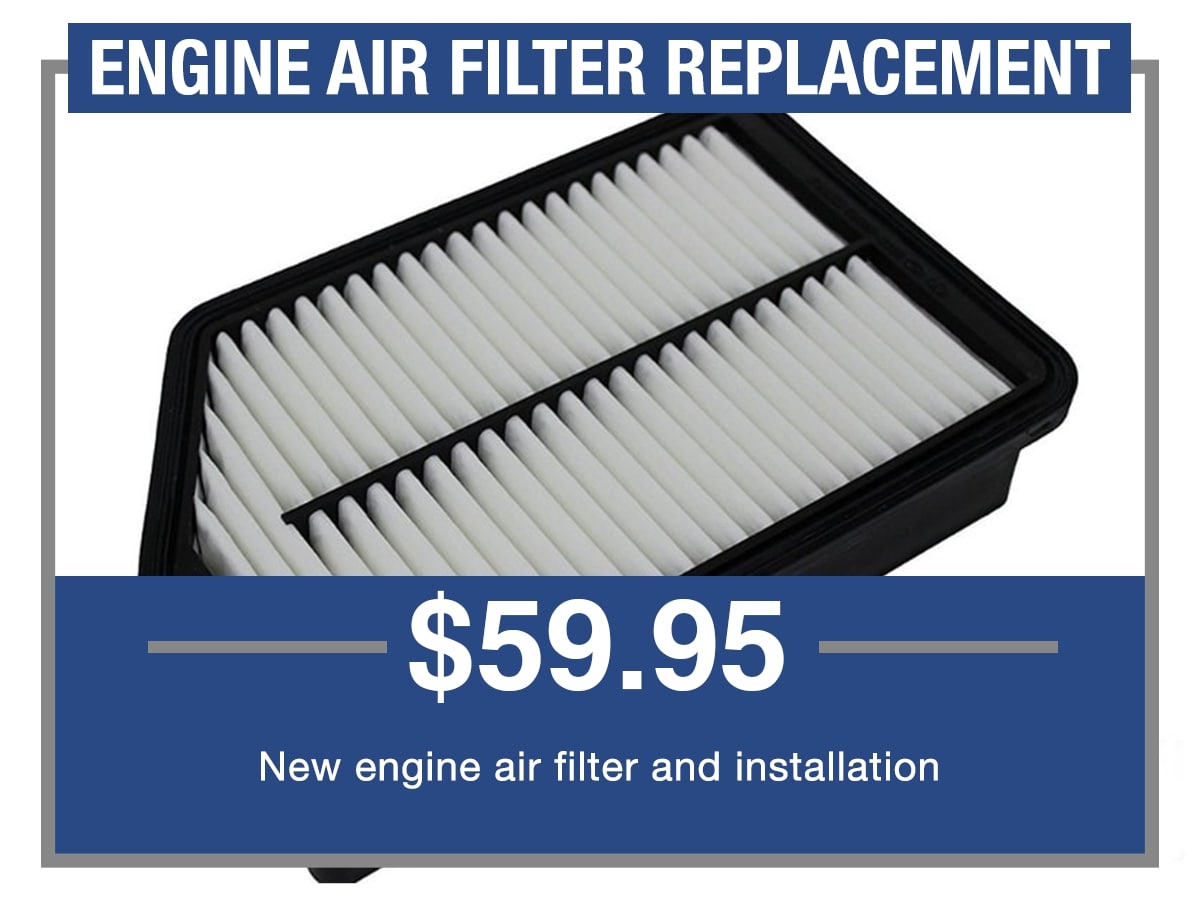 Engine Air Filter Replacement
Hyundai's engines require a certain amount of oxygen to work properly. The oxygen used comes from outside air that is pulled into the engine through the air intake system. The air needs to be free of contaminants like leaves, dust, and pollen found in the air around Bloomfield, New Jersey, that can clog up the engine and stop it from working as it should. This is where the air filter comes in. Engine and cabin air filters are typically made out of cotton, paper, or some other material and come in various shapes and sizes. They are designed to capture the debris as it enters the intake system before it can reach the air intake manifold and engine.
Why Changing the Filter is Important 
The debris will build on the surface of the filter. Eventually, the coating will get thick enough to clog the fine openings in the filter that lets clean air pass through it and this will reduce the amount of air going to the engine. When this happens, you will typically start to have performance problems with your car. These problems include:
If you are driving an older vehicle that uses a carburetor (most cars now use computerized fuel injection systems), you will usually see an increase in fuel usage as the engine pulls in more fuel when it lacks oxygen in order to power the vehicle.
When your engine lacks the proper amount of oxygen, it does not efficiently burn fuel. When this happens, soot is created. The soot can coat spark plugs and prevent them from firing properly. You will notice the engine misfiring as you run your Hyundai.
There are sensors in the air intake system that measures the amount of air flow to the engine. If the proper amount of air flow gets interrupted, the check engine light will come on.
Your Hyundai's performance will be limited if it cannot get enough oxygen. You will notice the performance issues when you step on the gas and your car does not respond as quickly as it usually does.
You should schedule an appointment at Lynnes Hyundai to have the filter changed about every 20,000 miles or so depending on your driving conditions. Regularly changing the filter will help to prevent any problems caused by constricted air flows.
Service Hours
Monday

7:30AM-6:00PM

Tuesday

7:30AM-6:00PM

Wednesday

7:30AM-6:00PM

Thursday

7:30AM-6:00PM

Friday

7:30AM-6:00PM

Saturday

7:30AM-4:00PM

Sunday

Closed