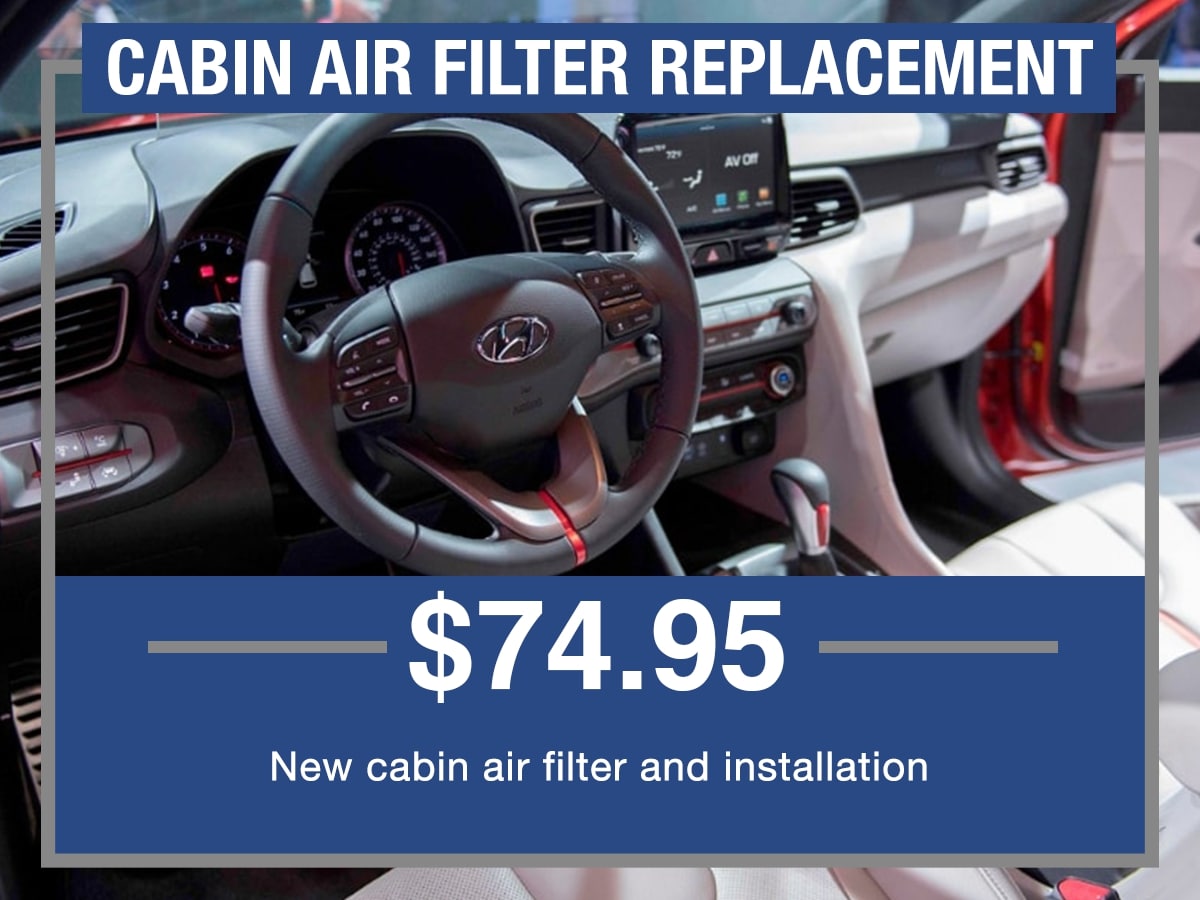 Cabin Air Filter Replacement
Your cabin air filter does a great deal to keep your car smelling great and to keep the air inside your car safe from pollution and from other foul things. The right filter can do wonders to make the interior of your car smell better and can also help to improve the overall air quality of your car. As you drive, the air that is coming into your car and engine passes through filter. Your cabin air filter is often located inside the glove box of your car. This filter helps to clean the air, to filter out pollution, and to help filter out any pollen that might be coming into the car. This filter needs to be replaced annually.
Why should I have a Cabin Air Filter Replacement?
Your cabin air filter does a lot to help keep your car smelling fresh and to help protect you from things like pollution and pollen. That being said, the longer you drive your car, the more likely it is that your filter is going to get dirty and grimy. This filter is vital to the air inside your car being clean. Without it, your car may
smell like the pollution in the air around you, it might have a strange smell, you may even sneeze or have difficulty breathing inside your car.
This filter is easy to change, easy to install, and can make your car ride much more enjoyable. This is an easy service that can be done while your car is having
other maintenance performed
and is a great way to help make sure that the air you breathe is clean and free of debris and dirt.
What happens if I Delay a Cabin Air Filter Replacement?
Delaying this type of service is likely going to result in your car smelling like pollution, your car may have a strange smell overall, and the air quality inside your car is going to be less than desirable. It is important to have this filter changed to ensure that the overall air quality inside your car is optimal at all times.
Why Should I Choose Lynnes Hyundai?
Lynnes Hyundai has a range of services and service specials that help to make your car more comfortable and to make your service experience as enjoyable as possible. They have a community involved dealership, factory trained Hyundai technicians, genuine OEM parts and accessories, and more. They also have a comfortable customer waiting area, magazines, newspapers, and books, HD TV and more. They offer coffee and beverages and are dedicated to making sure that your car is in perfect running order and ready to get you where you need to go.
---
Dealer Wallet Service Marketing & Fixed Ops SEO by
Service Hours
Monday

7:30AM-6:00PM

Tuesday

7:30AM-6:00PM

Wednesday

7:30AM-6:00PM

Thursday

7:30AM-6:00PM

Friday

7:30AM-6:00PM

Saturday

7:30AM-4:00PM

Sunday

Closed