2019 Hyundai Kona vs Honda HR-V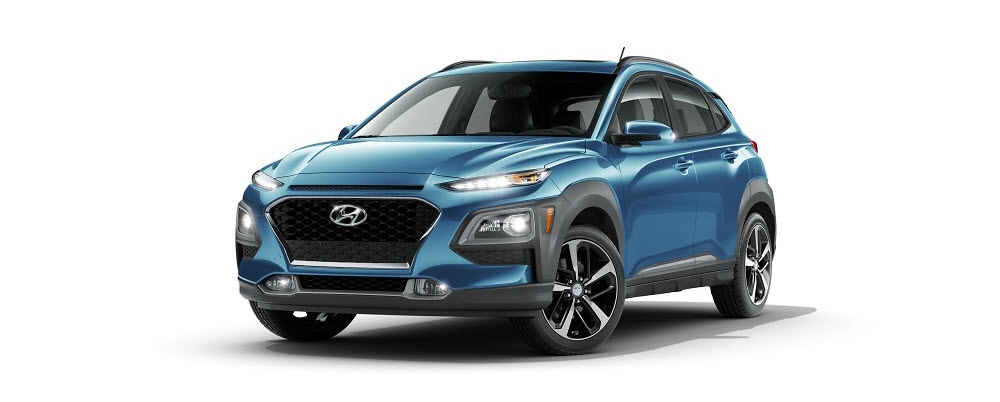 Are you shopping for a crossover to drive through Bloomfield, Newark, and Paramus? If so, you may be drawn to models like the 2019 Hyundai Kona or Honda HR-V. While either SUV would be a great option, only one can deliver the most of what you need.
To help you decide which one that is, the team at Lynnes Hyundai compared these vehicles on the basis of their engine specs, smart safety features, and infotainment systems.
Hyundai Kona vs Honda HR-V Engine SpecsWhether you're looking for a lightweight drivetrain or heavy-duty handling capabilities, you should be happy with either the Kona or HR-V.
Both SUVs come standard with front-wheel drive (FWD), but they also make a smart all-wheel drive (AWD) system available. These systems are great for snowy winter commutes or weekends at the shore because they automatically redistribute torque as necessary among all four wheels to help you keep a firm grip on the road.
However, the engine in the Kona may help you get moving a bit more quickly because it comes standard with a 147-horsepower 2.0L I-4 engine. Unfortunately, the 141-horsepower, 1.8L I-4 in the HR-V falls just a bit short of this.
Plus, the Hyundai Kona lets you upgrade to the 1.6L turbo I-4, which delivers 175 horsepower. The Honda HR-V, unfortunately, doesn't offer an engine upgrade.
Smart Safety Systems in the Kona and HR-V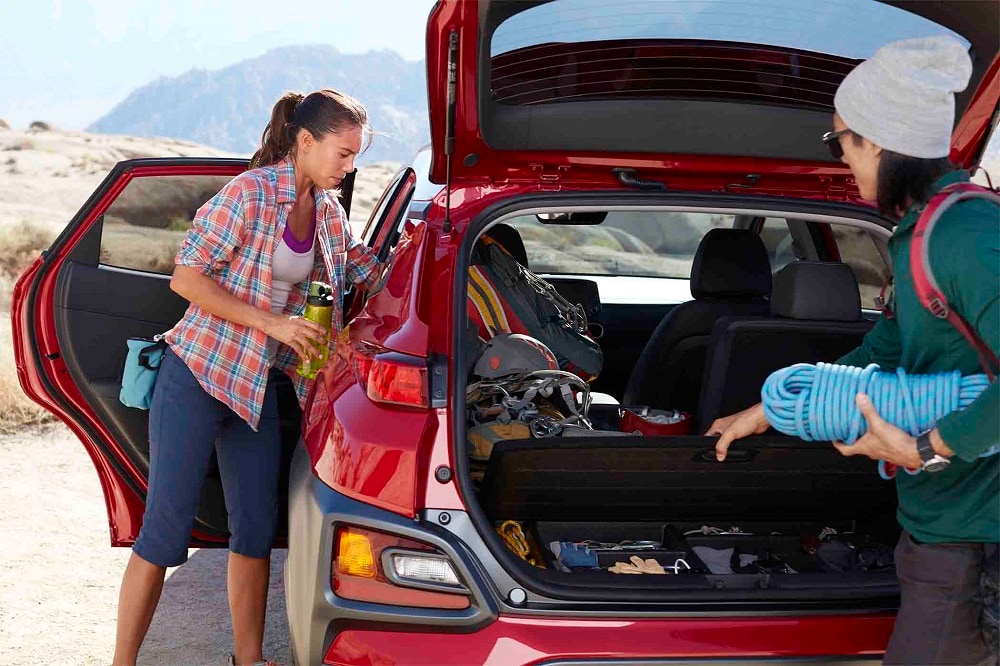 As you traverse the city streets or cruise along the highway, it's nice to have the peace of mind that comes with driver-assistive technologies. You'll have that in both the Hyundai Kona and Honda HR-V.
Both SUVs come with a lane keeping system that alerts you when you accidentally veer from your intended lane of travel. They also have a forward collision warning system that lets you know to slow down or stop if it detects a hazard up ahead.
One major difference is that the Kona comes standard with these features whereas the HR-V requires an upgrade.
The Kona also comes standard with a Driver Attention Warning system. This system monitors your driving habits for erratic patterns that may indicate drowsy or distracted driving. If sensed, it'll provide a suggestion to take a break from behind the wheel.
The HR-V doesn't offer a comparable feature to promote driver awareness.
2019 Kona vs HR-V Infotainment Systems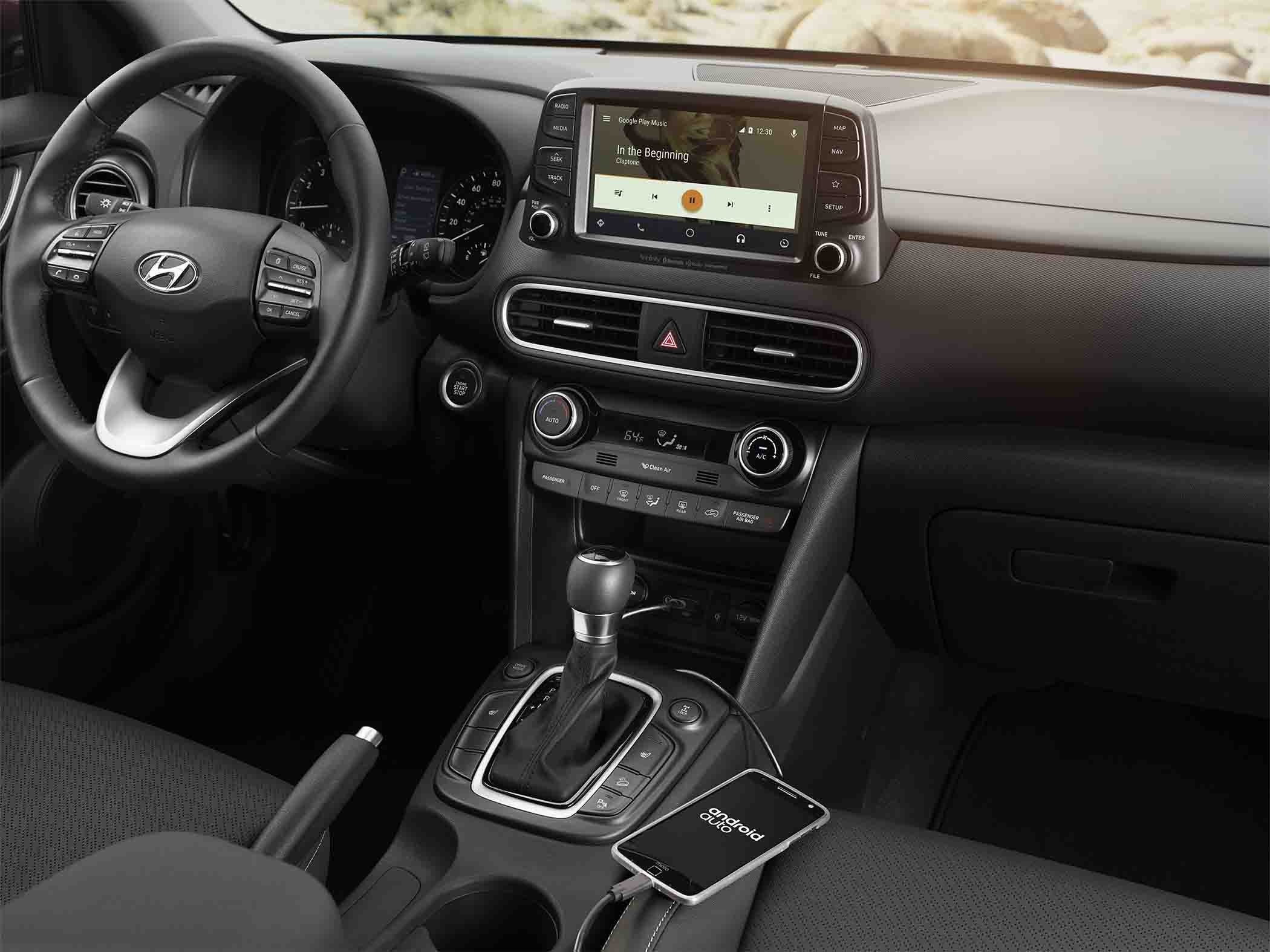 The key to a successful drive is an infotainment system that keeps you connected and entertained all along the way. That's what you'll find in both the Hyundai Kona and Honda HR-V, which both offer Apple CarPlay™ and Android Auto™ compatibility.
These systems allow for full integration of your smartphone with your infotainment system by allowing you to access some of your favorite apps through your touchscreen display.
The Kona makes this level of connectivity standard while the HR-V requires an upgrade. This is because the Hyundai Kona comes standard with a 7-inch touchscreen display with an available 8-inch display.
The Honda HR-V, on the other hand, comes standard with a 5-inch LCD screen that doesn't include touchscreen capabilities. You can upgrade to a 7-inch touchscreen with the HR-V, but it doesn't offer an 8-inch screen like you'll find in the Kona.
2019 Hyundai Kona vs Honda HR-V: Our Top Pick
After comparing the 2019 Hyundai Kona vs Honda HR-V, our team at Lynnes Hyundai found a lot to like about what the Kona brings to the Bloomfield, Newark, and Paramus areas.
To see it for yourself, contact us and test drive the Hyundai Kona today!