Hyundai Elantra Lease Bloomfield NJ

Are you always looking to take advantage of the latest technologies? Do you need a compact sedan to take you to the Bloomfield train station or the area's great restaurants? If so, a Hyundai Elantra lease may be right for you.
Lynnes Hyundai can help you find an Elantra lease that fits your lifestyle. Keep reading to learn more about this process. Then, see how you can start the Hyundai leasing process today!
Hyundai Elantra: An Overview
The Hyundai Elantra is more than a sedan. It's full of high-tech features that make your life easier, increase fuel economy, and keep you connected.
It's easy on the eyes, too-in more ways than one. From the outside, its available LED headlights present a unique design. When you're in the driver's seat, their cool-toned illumination helps reduce eye strain at night.
If you want to learn more about the Hyundai Elantra, check out our Hyundai vehicle reviews.
Why Lease the Hyundai Elantra?

As we mentioned, the Elantra offers a lot of high-tech features to help you get around Bloomfield. Each new model year brings more technology innovations, so there's no saying what will be available two or three years from now.
Luckily, you don't have to miss out on those new features when you lease the Hyundai Elantra. At the end of your lease term, you can easily trade your car in for a newer version. If at that point you decide you want something different-maybe you need more room for a growing family-it's easy to switch to a different model, too.
What if you decide you love the Elantra you've been driving? There are options to extend your Hyundai Elantra lease or finance the remaining value.
Hyundai Leasing in Bloomfield NJ
As you can see, leasing a Hyundai opens up a world of options. So, how should you go about getting started?
First, you'll want to browse our inventory to find the model you're interested in driving around Bloomfield. Do you want the SE, SEL, or Value Edition? What colors or upgrade packages are you interested in?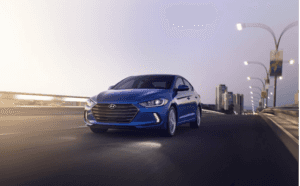 After taking the Elantra for a test drive and choosing a model, you'll sit down with our friendly finance team to discuss next steps. We'll go over everything that goes into your lease contract, from the length of your agreement to mileage limits and more.
If you have a vehicle you're looking to get rid of, we'll be happy to take it off your hands and add its value to your down payment. Use our helpful online tool to find its trade-in value before you arrive.
Once we know your payment preferences, we'll draw up a lease you'll be happy with.
Start a Hyundai Elantra Lease Today!
Ready to get started on a Hyundai Elantra lease in Bloomfield, NJ? Fill out our online finance application to streamline the process at our dealership. Then, browse our inventory and contact Lynnes Hyundai to schedule a test drive. We look forward to helping you through the Hyundai Elantra lease process!